We Love to Hear from You!
I can't say enough about the great customer service I get at Knuth's. Knuth's goes above and beyond to make your shopping experience pleasant. 5 stars from me! Can't wait to go back!

Maureen F.
I always enjoy shopping at Knuth's. You will always find something unique, the presentation is wonderful, and the customer service is good. You are always made to feel like a special guest.

Janice L.
I moved out of Cleveland several years ago but visit regularly for two things: wonderful friends and Knuth's. Knuth's has beautiful clothing, shoes and accessories for all ages and a staff that is both knowledgeable and honest about what looks best on me!

Jodi B.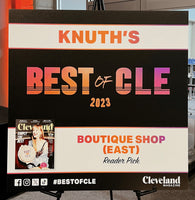 We won Best Boutique for Best of Cleveland 2023!❤